Great Harvest makes it easy to own your territory. Although we have four decades of franchising under our belt and over 200 stores across the country, we have only recently begun awarding franchise contracts to multi-unit owners. That's great news for you because we still have many territories available! You get more value when you invest with Great Harvest, and you can take your pick of desirable territories.
Franchise Fees:
| Territory Size | 1st Store | 2nd Store* | 3rd Store* | Total |
| --- | --- | --- | --- | --- |
| 50,000 people | $35,000 | $15,000 | $15,000 | $65,000 |
*Terms and conditions apply.
You can own three Great Harvest bakery cafes for only $65,000 in franchise fees. (Fees are discounted for additional stores.)
Stake your claim on our significant open territory. Here's an example of an available territory on Long Island: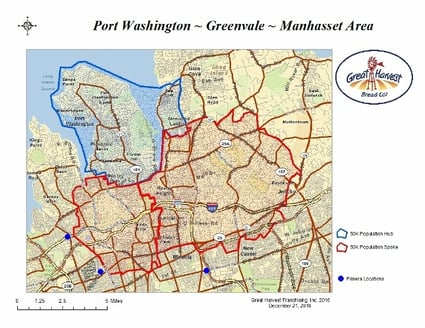 We can create custom territory maps for your area of interest; give us a call or make your request here.
Where Can You Open a Bakery Cafe?
Is the area you are considering within 15 miles of another Great Harvest franchise?
Use our Bakery and Cafe Locations page to check current Great Harvest locations.
If there is not a Great Harvest franchise within 15 miles, then it's most likely available. However, the new bakery cafe location also has to be viable. We use demographic criteria to determine if a town is potentially viable. Generally, we're looking for areas with at least 30,000 people.