It takes more time and attention to make a loaf from scratch, but the taste is worth it.
Our favorite breads:
Honey Whole Wheat
Our signature and most popular bread is a perfect blend of five pure ingredients – freshly ground, flavor-rich, 100% whole wheat flour, pure honey, filtered water, salt, and yeast.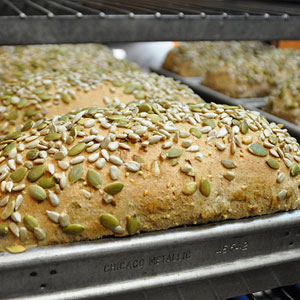 Dakota
Sunflower, pumpkin, and sesame seeds are generously kneaded into our honey whole wheat dough for a crunchy, hearty, and flavorful bread.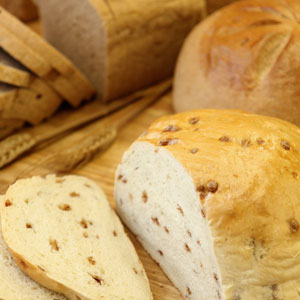 Cinnamon Chip
Enjoy the sweet goodness of cinnamon chips in every bite. Flour, cinnamon chips, honey, and ground cinnamon. Makes a heavenly French toast.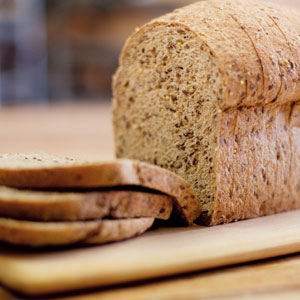 High 5 Fiber
Freshly ground 100% whole wheat flour, honey, flax seeds, oat bran, millet, sunflower seeds, and wheat bran.
Our newest breads: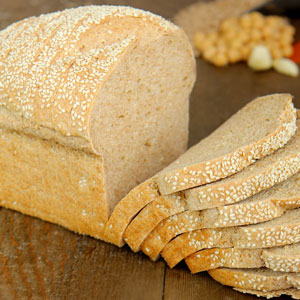 Hummus Bread
Hummus as bread! This awesome bread is made with only fresh, simple ingredients: chickpeas, freshly ground 100% whole wheat flour, sesame seeds, garlic, cumin, cayenne pepper, olive oil, honey, salt, yeast, and water! It makes an incredible sandwich bread, or try it toasted with fresh avocado.
Superfood Bread
A 100% whole grain bread made with only super simple, nutritious ingredients: quinoa, freshly ground whole wheat flour, flax, oat bran, hemp seeds, extra virgin olive oil, honey, salt, yeast, and water.
Anadama
A tantalizing combination of buttermilk-soaked coarse cornmeal, whole wheat and white flours, honey, and molasses. Soft and fluffy with the sweet crunch of corn. It is perfect sandwich bread and makes a wonderful toast!