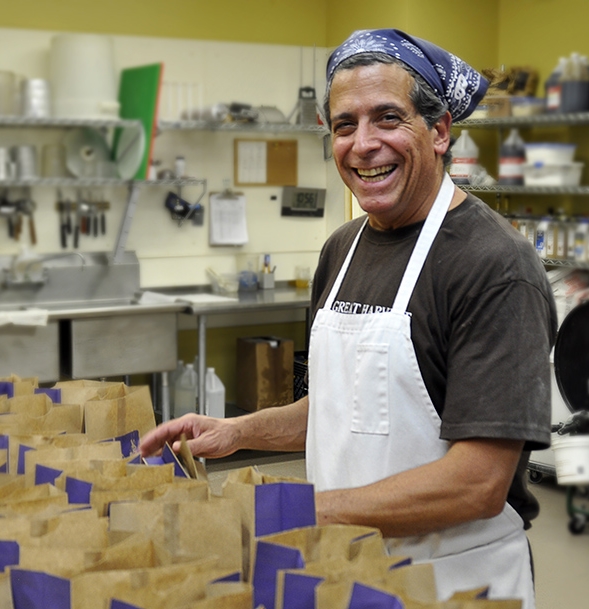 If you are considering opening a bakery cafe with Great Harvest, you'll want to read these key franchise facts.
Initial fee: The franchise fee for your first store will be $35,000.
A new laptop computer is included with your franchise fee.
We offer a 15% discount off the initial franchise fee of $35,000 for honorably-discharged veterans of the United States Armed Forces who control at least 50% of the bakery at the time of signing their Franchise Agreement.
Franchise Fees:
| Territory Size | 1st Store | 2nd Store |
| --- | --- | --- |
| 50,000 people | $35,000 | $15,000 |
Average total cost to open a Great Harvest bakery franchise is $394,193. (See details). You may want to read our blog post on how long it will take your business to be profitable. You will note that franchise fees for additional stores are discounted (not only with the second, but with all subsequent stores). The franchise fee discount combined with our cost-effective Hub & Spoke model make the option to grow into multi-store ownership with Great Harvest very attractive.
Capital requirements of applicants: $110,000-$120,000 in liquid, unencumbered cash (cash and securities). On top of the $110,000-$120,000, applicants should have additional resources and/or the ability to borrow or acquire the balance that will be needed to open the bakery cafe.
Average time from signing a franchise agreement to opening your doors is currently 14 months. Securing a location can be the biggest variable during this period. You should also read our blog post on why it takes a year (or more) to open a successful bakery cafe.
We recommend approximately 2,500 square feet.
You will be granted an Exclusive Franchise Territory containing up to 50,000 people.
The term of the franchise agreement is ten years.
Start-up and initial training support include:
Site selection assistance.
Lease negotiation assistance.
Layout and design assistance.
Equipment search assistance.
A Training and Development Specialist will walk you through the details of getting your bakery cafe open.
Great Harvest University online: 35-40 hours of self-directed, self-paced learning activities on our intranet.
Made-To-Order School: Five days of hands-on training in Dillon, Montana to learn the pace of production, style at the counter, general bakery cafe systems, predictions, and promotion.
Baking Fundamentals School: Five days of hands-on, one-on-one training on how to bake phenomenal products.
Bakery Cafe School: Five days of hands-on training in our test labs and in-class sessions to learn aspects of running a successful Great Harvest bakery cafe.
Team of opening trainers.
Pre-opening marketing assistance.
Post-opening visits as we determined they are needed.
Find out more about support and training during the pre-opening and post-opening stages.
Royalties: The monthly royalty rate you pay is 5%.
Marketing Fund: The monthly rate is 2.5%.
You can find additional franchise facts here on our FAQs page.