Research the Great Harvest Franchise
Am I A Good Candidate?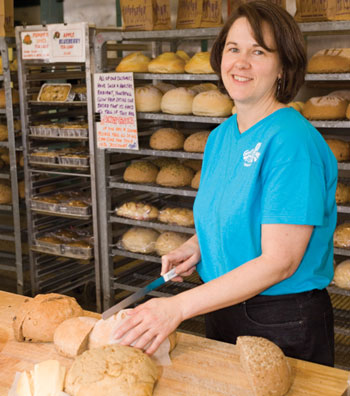 This is a common question as you begin the franchise research process. In the application review process, we'll want to learn about you and your reasons for wanting to own a bakery cafe. The right reasons for wanting a Great Harvest franchise are things like:
Wanting to be your own boss
Being tired of traveling
Wanting your family to work together
Loving the bread and caring about quality
Often the motivation is something as simple as having seen a Great Harvest franchise, talking with the owners, and deciding you want the same thing for yourself.
Financial Criteria
Based on forty years of experience, we have established some minimum financial requirements. We truly want you to succeed, and we take these minimums seriously given that we've seen good businesses close their doors because the owners were under-capitalized.
People are often unrealistic about where the startup money, plus personal expenses, will come from. After signing a Franchise Agreement, we will help you develop a business plan for a bank. In some instances, we will ask you to meet with banks early in the process to evaluate whether or not you will qualify for a loan. Read more about franchise startup costs here and about how other Great Harvest owners financed their bakeries here.
Experience
People often ask, "How can we expect to succeed when we don't know anything about baking? I was trained to be an engineer!" This always strikes us as funny because Great Harvest's approach is so different from a typical bakery cafe. Whatever unique life experiences you bring are an advantage. In fact, teaching someone who has had bakery experience would be much more difficult than starting with a clean slate.
Over the years, we've learned ways to systematize every aspect of the business so it can be easily taught to new employees, and new owners. Our training program is constantly growing and incorporating new improvements. With each year and each new bakery cafe, we learn more ourselves. The first franchise owners (thirty years ago) were taught just the recipes. Now the recipes are less than a tenth of what we teach.
Local Connections
The best neighborhood store locations are often chosen by locals. We contribute our knowledge of bakeries to their knowledge of the town, and together we do well. We do have strong Great Harvest locations where the owners were not local. But truly local bakery cafe owners have a feel for the community that no amount of careful outside research can duplicate.
Check out how Bob and Colleen in Southlake, TX have localized their Great Harvest:
A separate consideration: local owners are often able to hang on to their jobs during the pre-opening process while location and equipment-hunting. This relieves some of the pressure to be open by a certain deadline. It may even allow them to save some money, instead of watching it gradually dwindle while unemployed and waiting for the business to take off.
Patience is often a big factor in securing the right location. It's important to recognize the high cost of self-imposed deadlines during startup, and to put yourself in a position where patience can come naturally. If you're not local to the area where you are applying, that's OK. We'll just want to understand your plans to overcome this challenge during the application review process.
Franpreneurs
Not sure what that means? A franpreneur is an entrepreneur who doesn't want to create everything from scratch, but would rather follow proven systems. In other words, it's an entrepreneur who wants to own a franchise. A franpreneur is also someone who wants to be part of "a family" of like-minded business people — someone who enjoys working together and sharing ideas with others.
Although a franpreneur is able to follow recommendations and is eager to collaborate, they still possess an entrepreneurial spirit. They are passionate and proactive about marketing and other activities that will help grow their business. Are you a franpreneur? You will fit right in at Great Harvest.
Financial Expectations
This brings up something else that we might as well cover here. Your biggest question —and we can't blame you— is usually: "How much money will I make?" Profits are important for every business. We've never seen a "strong and exciting bakery" that wasn't profitable.
However, it's a question that, in the strict sense, we can't answer. The best we can do is to point you toward what our other bakeries have done in the past. These are what the federal government calls "financial performance representations" and are strictly regulated.
Our Franchise Disclosure Document (FDD) includes one of the most detailed financial performance representations of any franchise system, because it's important to us to give you the best answer we can to your biggest question. After we receive qualified applications, we provide you a copy of our FDD.
Determination
Some of the best Great Harvest bakery cafe stores were started by people who originally called us years before they signed an agreement, kept the idea in mind, saved their money, and eventually made the jump. We're in this job for the long haul. Because of this, we take every call seriously ─ even if we're all signed up for the year, and even if you don't have enough money yet.
People's situations change. But we take an instant liking to anyone with a dream of working for themselves and ideals about quality. People who hang onto those ideas always get there. Whether you end up with Great Harvest or not, if we can get you fired up toward that dream, it's worth it to us. Any questions at all, just call or send us a message.