Okay, we'll admit it. We may be just a little guilty of bragging as we share information about ourselves. But, you don't have to take our word for it! In fact, we'd prefer that you do some research on our Bread Business and get to know what Great Harvest is all about.

If you're doing franchise research, you may be interested to know that these independent organizations have done their own due diligence on Great Harvest, and publicly commended us based on their findings.
FranchiseRankings.com®
A leading provider of reviews and ratings in the franchise industry, FranchiseRankings.com, has named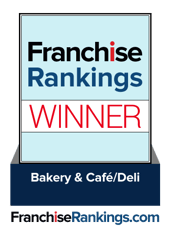 Great Harvest Franchising, Inc. among their Top 100 Best Overall Franchises. To determine which franchises to feature in the rankings, their independent research team analyzes various franchises based on the quality of service and performance of the franchise for franchisees. An evaluation process is used to benchmark and compare various franchises across their key strengths and competitive advantages. Five areas of evaluation are used during this process, including growth prospect, marketing support, training, ongoing support, and value.
Military Times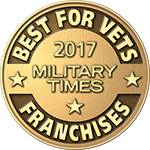 Military Times ranked the Great Harvest Franchise twelfth among their 43 "Best for Vets: Franchises 2017." The rankings are based on their analysis of franchise disclosure documents and answers to a rigorous, 110-question survey covering company culture, franchise unit performance, franchise costs, and franchise support for veteran and active-duty service members and their families (financial and otherwise). Great Harvest offers a 15% discount off of the initial franchise fee for honorably-discharged veterans of the United States Armed Forces who control at least 50% of the bakery cafe when they sign their Franchise Agreement. Currently, initial franchise fees for the first store is $35,000. Great Harvest was previously recognized as a Military Times' Best for Vets Franchise in 2014-15.
Frandata listing
FRANdata is the official issuer of a system the US Small Business Administration uses to track franchise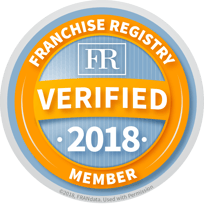 brands (FRUNS). By connecting more than 8000 lenders to every franchise in the FRANdata database, the Franchise Registry provides the information, services and support that facilitates tens of thousands of loans to franchisees each year.