Our Executive Chairman
Meet our Executive Chairman, Nido Qubein, who embodies the generous and entrepreneurial spirit that Great Harvest is known for.
Our Leadership Team
Our core crew consists of seven hands-on, talented leadership team members, all of whom are truly experts in their fields. They are responsible for steering the direction of the national franchise while working closely with local bakery owners and our 30-member staff here in Dillon, Montana. Whether in bakeries or bakery cafes, at industry gatherings, or researching ways to better our business, they're the real thing: great leaders (and great people, too)! Get to know our leadership team:
Mike Ferretti, Chairman and CEO
Eric Keshin, President and CMO
Janet Tatarka, Director of Bakery Cafe Training
Mark Peterson, Director of Live Training and Corporate Baking
Debbie Huber, Chief Admin Officer & Community Manager
Kay Roach, Chief Financial Officer
Kayla Conner, Director of Bakery Cafe Performance
Ben Green, Director of Franchise Sales
You can also read blog posts written by our leadership team to get to know more about them and their work at Great Harvest. Click to read blogs written by Mike Ferretti, Eric Keshin, Kayla Conner, Debbie Huber and Kay Roach.
Our Team Members
We are fortunate to have a group of dedicated team members who are not only experts in their respective fields, but are also high quality people. This hand-picked group helps round out our collective expertise to deliver maximum value for our franchise owners and our loyal customers. You can get to know some of our team members better by reading their blogs, including those from our Corporate Chef Scott Molyneaux, our Nutrition Specialist Lauren Ruhr, and members of our field operations and training teams — Lauren Johnson, Kayla Conner and Bonnie Harry .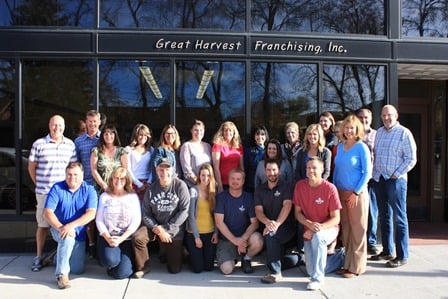 Our Local Great Harvest Franchise Owners
Our organization attracts people whose priorities align with our Mission Statement and philosophy. That's as true for our franchise owners as it is for our corporate employees. Great Harvest franchise owners share our commitment to generosity, great service, healthy whole foods, exceptional quality, and work/life balance. From former corporate executives to small town schoolteachers, Great Harvest bakery and cafe franchise owners are an inspiring group of people. Though they come from all different walks of life, they've each found a way to open healthy businesses and make better lives for themselves, while baking a difference in their communities. To get to know the small business owners who represent your neighborhood Great Harvest bakeries and cafes across the country, check out the Bread Business Blog.