What makes our bread so exceptionally good?
It's in the wheat kernels. We know where every kernel comes from. That's because we have been purchasing our premium Montana wheat from family-owned wheat farms for more than 30 years.
Great Harvest uses wheat grown on the arid high plains of Montana's Golden Triangle. This legendary region (conveniently located not far from our Dillon headquarters) is known for growing some of the highest quality wheat in the world. As wheat connoisseurs, we often use the comparison that the Golden Triangle is to wheat what Napa Valley is to wine.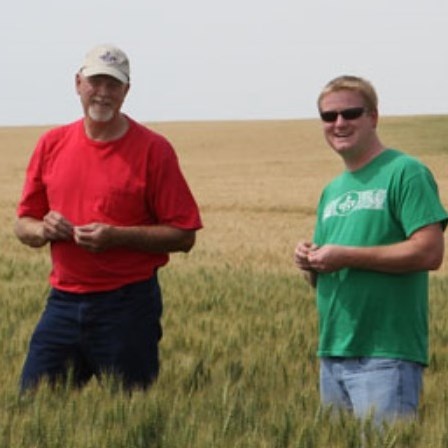 The farmers who grow our wheat know Great Harvest is a tough client. Every year we conduct wheat testing on the crops to measure protein content, moisture level, baking qualities and, of course, taste. We also conduct wheat testing for chemical residue and GMOs to be sure our wheat is clean. The high-quality wheat we ultimately purchase allows us to bake without using artificial dough conditioners to boost loaf size.
Our growers know that the slightest variation in the wheat crop can completely change the flavor, size, and shape of a loaf. Consistency is the key. That's why we perform at least one hundred test bakes each year. First, our growers send their wheat harvest samples to suppliers for preliminary testing. Only test lots that meet the specified criteria are sent on to our research & development bakery in Dillon, Montana.
In R&D, we stone mill each sample of wheat into fresh ground flour, unlocking the nutty flavor while retaining all of its original parts. Then we begin measuring, mixing, weighing, kneading, and baking. Understanding the subtle nuances of the wheat — what great dough should feel like, how it should bake, and above all, how it should taste — is what distinguishes Great Harvest products.
A perfect loaf of Great Harvest Honey Whole Wheat has a taste that is full-bodied and balanced. It features a harmonious blend of wheat, sweet, and hints of fermentation. Wheat kernels that bake up such superior loaves in our test bakery are keepers.
Great Harvest's passionate pursuit of the best wheat on earth is never-ending. Wheat crops change. Each year brings a new harvest of wheat kernels from an endless ocean of amber fields. For the Montana wheat farmers whose crops make the cut, there is a great sense of pride.