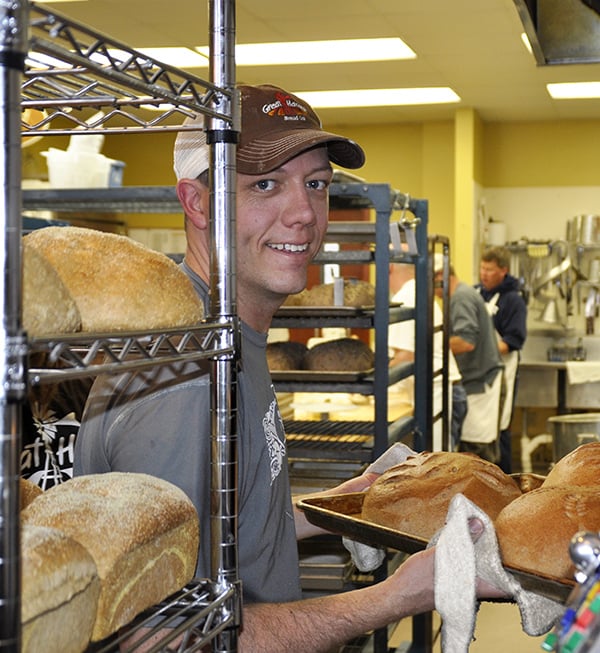 Join the Great Harvest Team
We are the Great Harvest Bread Company and we are "Bread Heaven." Not just a set of words but the bar we set for everything; we live by this mantra. We are defined, first and foremost by our core product, our bread. It is special and we do it right. From the very start when we hand select our wheat from the Golden Triangle of Montana, the best wheat source on earth. To the time that wheat arrives, at locally-owned stores, where it will be stone milled into fresh flour on-site then baked into phenomenal breads and goodies every day from scratch. We continue to do it right until the special moment when our fresh baked goods are cheerfully passed over the counter to our customers — who become lifelong friends of Great Harvest. This is... Bread. The Way it ought to be.
Get a Job in Your Neighborhood
Our locally-owned Great Harvest bakery cafes are always on the prowl for great people. If you have a good sense of humor, an outgoing personality, and don't mind staying in shape by busting your tail making great bread, then you might be just the type of person they need. The salary range varies by location, as does the availability of benefits. At all stores, the pay will be decent, the work environment will be humane, and you get to work in a fun atmosphere while listening to music and wearing shorts and t-shirts year round. Best of all, you get to take home free bread to your family. People love working with Great Harvest and often stay with us for many years. You may even own your own Great Harvest Bread Co. one day!
Looking for a job opening near you? Find your nearest Great Harvest location. Give them a call, or stop by and ask to speak with someone about job possibilities. Opportunities typically include customer service positions, bakers, and sandwich makers.
Get a Job Working for Our Home Office in Dillon, MT
We train and empower new business owners to operate upbeat, popular and sustainable neighborhood bakery cafes. Great Harvest has been recognized nationally as an outstanding franchise opportunity (Entrepreneur Magazine Top 500 Franchises) for the past 10+ years. We have been on Outside Magazine's list of Best Places to Work. The company attracts employees who work and play hard, like helping others and enjoy living in small town Montana.
Work here includes screening franchise applicants, training, opening new bakery cafes, testing Montana wheat for use in our franchises, creating phenomenal new recipes and a wide assortment of support services to established bakeries and bakery cafes. The company is small and growing. Great Harvest employees love great bread, are super nice, and have a full personal life as important to them as their work. It's important to like small-town living, to enjoy business, and to have an assortment of skills and personal strengths to bring to the company.
Great Harvest offers competitive salaries, a 401(k) plan, a health plan (Cafeteria Plan and Health Insurance), long-term disability insurance, YMCA membership subsidy a generous vacation plan and eleven paid holidays per year. And, of course, free bread!
Administrative Professional / Nutrition Coordinator
As the Administrative Assistant, this position is the face of Great Harvest to the public – answering phones and greeting the public that walks in our corporate office. This position performs data entry of recipe ingredients into a nutrition analysis program to generate nutrition labels for Great Harvest products. The person filling this position will also assist with various office administration functions. We're looking for someone who is very detail focused, has friendly, energetic phone skills and is comfortable on the computer. You should also be task-oriented, organized and not afraid to ask questions. Experience or education in nutrition or other administrative experience would be beneficial, but not required. This is a full-time job and the position is located in Dillon, Montana.
To apply, please open and complete this job application, then send it to us with your resume on this page.
Job Description:
Nutrition Analysis: You will generate nutrition labels for products using the ESHA Genesis nutritional analysis program. Labels are for new products developed at the franchise as well as products either modified or created at the franchise level.
Other Admin Work: Update and maintain master nutrition spreadsheet. Update and maintain nutrition on Great Harvest websites. Update and execute nutrition binders for bi-monthly bakery opening. Answer phones and route calls. Sorting mail; sending mail. Maintaining meeting agendas, updating and distributing corporate reports. Other duties as assigned
Skills and Qualifications:
Effective written and verbal communicator
Self-starter with independence, initiative and drive to succeed, as well as strong organizational skills and a can-do approach to problem solving
Ability to juggle multiple tasks in a fast-paced environment where priorities can shift quickly
Education and Experience:
High School Diploma or equivalent
Dillon, MT:
This position is located in Dillon, Montana. We are a vibrant college town surrounded by public lands for all kinds of outdoor activities and world-class fishing.
Interested in Being Your Own Boss?
Find out more about our franchise opportunities and explore whether owning your own Great Harvest bakery cafe would be a good fit for you.