Cafe Menu options
If you like tasty real food made by real people, with ingredients you recognize, you will love eating at Great Harvest. With hot and cold sandwiches in tempting flavor combinations, fresh salads, and grain bowls, we're out to prove mealtime can be delicious and healthy.
Stop by a local Great Harvest bakery cafe to enjoy your lunch or dinner, and you may find these or other items on the menu. Each locally owned bakery cafe sets their own menu. (You can find your nearest location's contact information to find out exactly what is available by using our Bakery Cafe Locator.)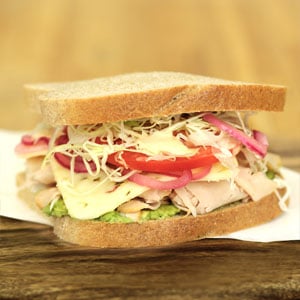 Baja Chipotle Turkey
Often said to be "the best sandwich on earth." Inspired by the flavor combinations of a Baja fish taco, our version includes thin slices of turkey breast with a flavorful chipotle honey lime yogurt sauce, shaved cabbage, pickled red onions, avocado, and pepper jack cheese. Delicious on our Honey Whole Wheat or another exceptional bread of your choice.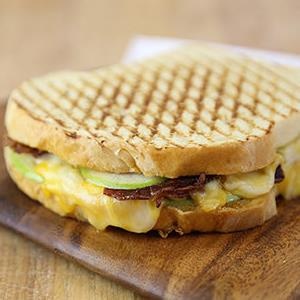 Spicy Apple Bacon Grilled Cheese
Get ready for a new favorite! Grilled cheese like you've never had it before. Melted sharp cheddar cheese and provolone, thin-sliced apples, bacon, and pepper jelly come together to create this amazing flavor combination. Try it on a phenomenal bread of your choice (pictured here on Farmhouse White).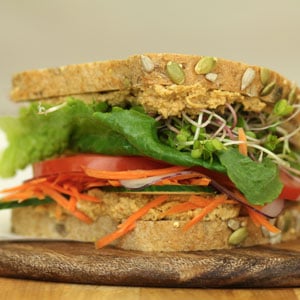 Veggie Three-Seed Hummus
Just one of several meatless options on our cafe menu, our Veggie Three-Seed Hummus is flavorful and filling enough to tempt a meat eater. Featuring a healthy, protein-packed hummus spread made of puréed chickpeas and roasted sesame, sunflower, and pumpkin seeds, then topped with a colorful selection of fresh veggies, this sandwich pairs well with our Dakota bread.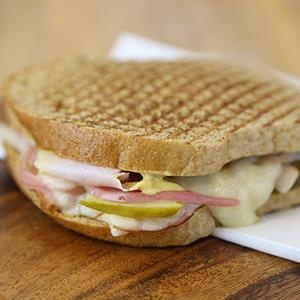 THE NEW CUBANo
We've made the Cuban sandwich better than ever! With turkey, ham, Swiss cheese, stacked dill pickles, our special house-made pickled red onions and a Dijon mustard spread, our take on the classic Cuban will have you saying, "Delicioso!" Try it on focaccia, Farmhouse White, Honey Whole Wheat (pictured here), or another bread of your choice.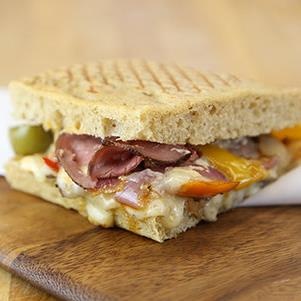 Roasted Pepper Chipotle CheeseSteak
Try our fresh take on an old favorite. Our version includes layers of roast beef blanketed in melted Havarti cheese, marinated, roasted bell peppers and onions, and chipotle mayo. Shown here on our grilled focaccia bread, this is a flavor combination you will crave!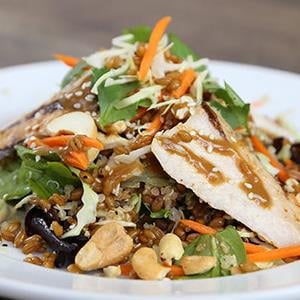 SESAME CHICKEN Salad
Our Sesame Chicken Salad is made with grilled chicken breast, peanuts, and cashews on top of fresh mixed greens and cabbage. Tossed with carrots, cilantro, sesame seeds, toasted wheat, quinoa, and our house-made miso vinaigrette, it is highly addictive. Try this and other salads such as Fresh Seasons Strawberry or Apple, Sesame Portobello, and Carrot Tahini.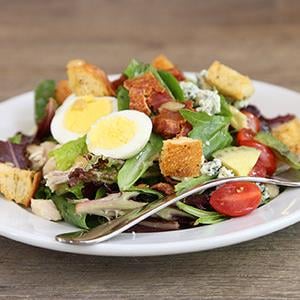 COBB SALAD
Our version of the all-time favorite Cobb salad includes mixed greens, chicken, bacon, hardboiled egg, cherry tomatoes, avocado, blue cheese and Great Harvest Croutons, topped with our fresh house-made Roasted Garlic-Lemon Vinaigrette. Other tempting salads you may find at your local Great Harvest include Yardbird, Mexicali, and Greek.