After you've submitted your application and heard back from us, it's time for you to dig into due diligence.
There are three important components of this stage in the process:
1. Reviewing our Franchise Disclosure Document (FDD)
2. Completing initial phone calls with our team
3. Connecting with, visiting and interviewing as many Great Harvest owners as you can to get a good sense of whether the Bread Business might be a good match for you.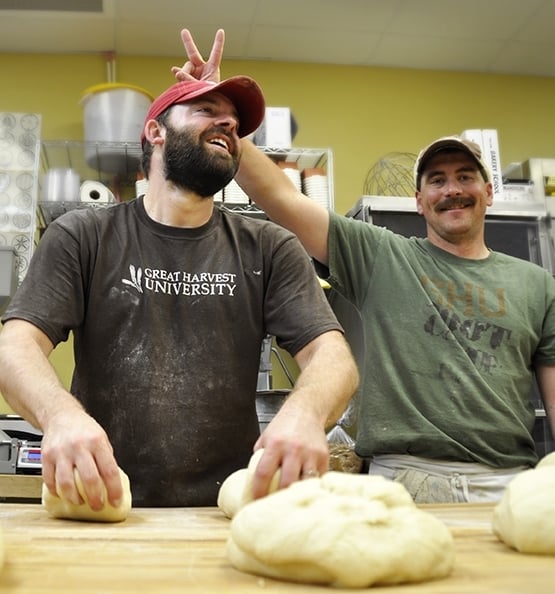 Remember that this is your time to thoroughly research the franchise opportunity before your visit to Great Harvest headquarters in Dillon, Montana, where we will make a decision on whether to award you a franchise!
1) Our Franchise Disclosure Document
If your application meets our minimum criteria we will provide you with a Franchise Disclosure Document (FDD). Our FDD is available in paper format or by email. You will need an active e-mail account and a computer equipped with e-mail software, Adobe Acrobat software (downloaded for free at www.adobe.com), and a printer in order to view and print the FDD. The FDD provides more in-depth information on the Great Harvest bakery franchise opportunity. We are proud to say that the section on our historical financial performance is one of the most detailed of any franchisor, so this will hopefully help answer many of your financial questions.
Please note that we, the franchisor, cannot provide any additional financial information outside of what is presented in the FDD due to regulatory requirements. Read more about the FDD in our blog posts here and here.
2) Phone Q&A
The first phone Q&A is about us getting to know each other. This is an opportunity for you to have your questions answered and for both of us to discover if the fit is right. During this interview we will ask you about your reasons for wanting to start a Great Harvest bakery cafe franchise, discuss your business acumen and industry compatibility, among other important topics for future franchisees. Everyone who will be involved in the day-to-day operations of the bakery cafe should participate. We will contact you to schedule this call upon making a determination about your application.
3) Connecting With Great Harvest Owners
No one can give you a better understanding of our franchise than the Great Harvest owners who live and breathe the business every day. As we get further into the application process, we'll provide you with a customized list of store locations, including some close to you and some who share similar profiles.
Here are some blog posts that we think would be helpful to you now:
At this point, you should get a feel for what your life will look like and how you would make the Bread Business work for you. Great Harvest franchise owners tend to be very welcoming to prospective owners, and very thorough and transparent with the information they provide. They know what it's like to be in your shoes. They are also invested in growing the franchise, and they care about whether candidates understand the brand, and our Mission. You can expect honest insights about the pros and cons of small business ownership with Great Harvest.
We encourage you to visit as many Great Harvest franchises and talk to as many owners as you can.

After your visits, we'll complete another phone Q&A and discuss a potential Experience Great Harvest Day at the franchise office in Dillon, Montana!